Fire Police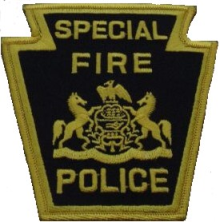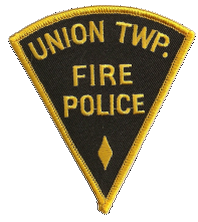 A Pennsylvania Fire Police Officer is a member of a volunteer fire company empowered by the municipality to handle emergency situations throughout the Commonwealth of Pennsylvania. Fire Police are trained to address those situations and difficulties the public faces in encountering them.  Duties include traffic control, scene safety, and law enforcement powers.
The Union Township Fire Police assists the Belleville Fire Company, Mifflin County Regional Police, and Pennsylvania State Police on emergency and non-emergency calls within Union Township, as well as surrounding townships when requested.  The fire police are usually the first to arrive on scene behind a Fire Company officer, and ensure roads are closed, hazards are identified, and other information is relayed to incoming fire personnel.  The fire police also assist the fire company in other ways such as assistance with fundraisers, sponsoring/selling calendars, and a raffle stand at the annual Firemen's Festival.
To become a member of the Union Township Fire Police, one must be a member of the Belleville Fire Company No. 1.  On becoming a Fire Police officer, one is sworn-in by a township official and is then required to participate and pass a Basic Fire Police course.  Union Township Fire Police conducts its monthly meetings at the Belleville firehouse on the third Thursday of each month at 7 PM.  If you are interested in becoming a member of the Fire Police, please contact the FP Captain or any active company member.