Company News and Events
---
---
2014 Fund Drive
The annual Belleville Fire Company Fund Drive kicked off in October. If you haven't contributed yet but are thinking of doing so, It's not too late. Click on the link below to bring up the Fund Drive letter and attached contribution form. We thank you for all the ways you support your fire company year round!
---
12/6/14 - Fire Company Renovating Old Union Elementary Kitchen and All Purpose Room
Construction Is Under Way - Stay Tuned For Updates
The fire company has been given permission to renovate the kitchen and all-purpose-room areas of the former Union Elementary School building as well as the use of some of the classroom areas to store items used for the festival etc.
When the renovation is completed, the kitchen and all-purpose-room will be used for bingo, pancake breakfasts etc. instead of using the fire hall as we do today.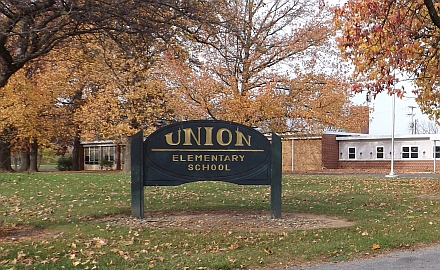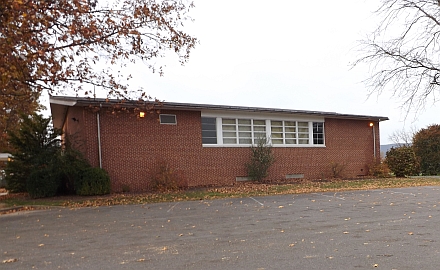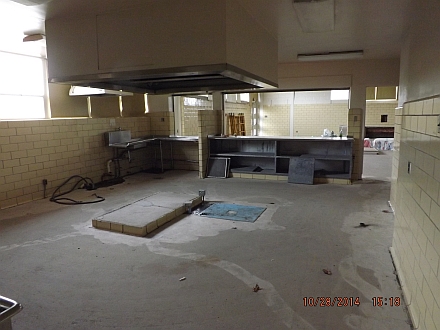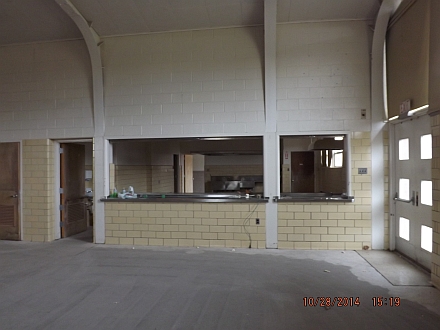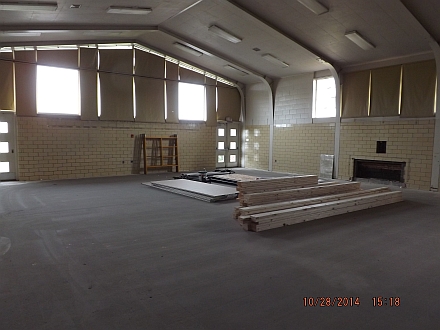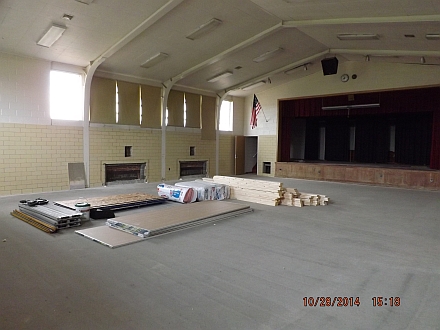 3/23/14 - Update on the New Brush Truck
3/23/14
This past week, the BFC purchased this truck as the new Brush 24. It is a 2004 Ford F-350 Super Duty. The bed and cap will be replaced with a flatbed, equipped with the skid unit from the old brush unit and compartments. Check back on our Facebook page or website for pictures and additional details about the new Brush 24.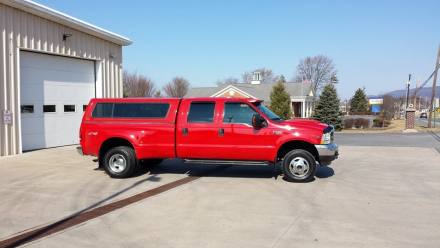 3/17/14 - Rescue Tool Upgrade
3/17/14
This evening, BFC members trained with a representative from Holmatro on the upgrade to the hydraulic rescue tool system. An old car was cut apart to demonstrate how the new tools work. The current tools were upgraded to Holmatro's "Core" technology, which features one hydraulic hose instead of two. The upgrade includes a new portable pump that is capable of running two tools at once and converting current spreaders, cutters, and rams to the Core system. Other features include one-handed changing of tools while "hot" or under pressure, no-kink hoses, and a more efficient power unit. Thank you to Holmatro for spending the time to show us the new system! We are pleased with the upgrade!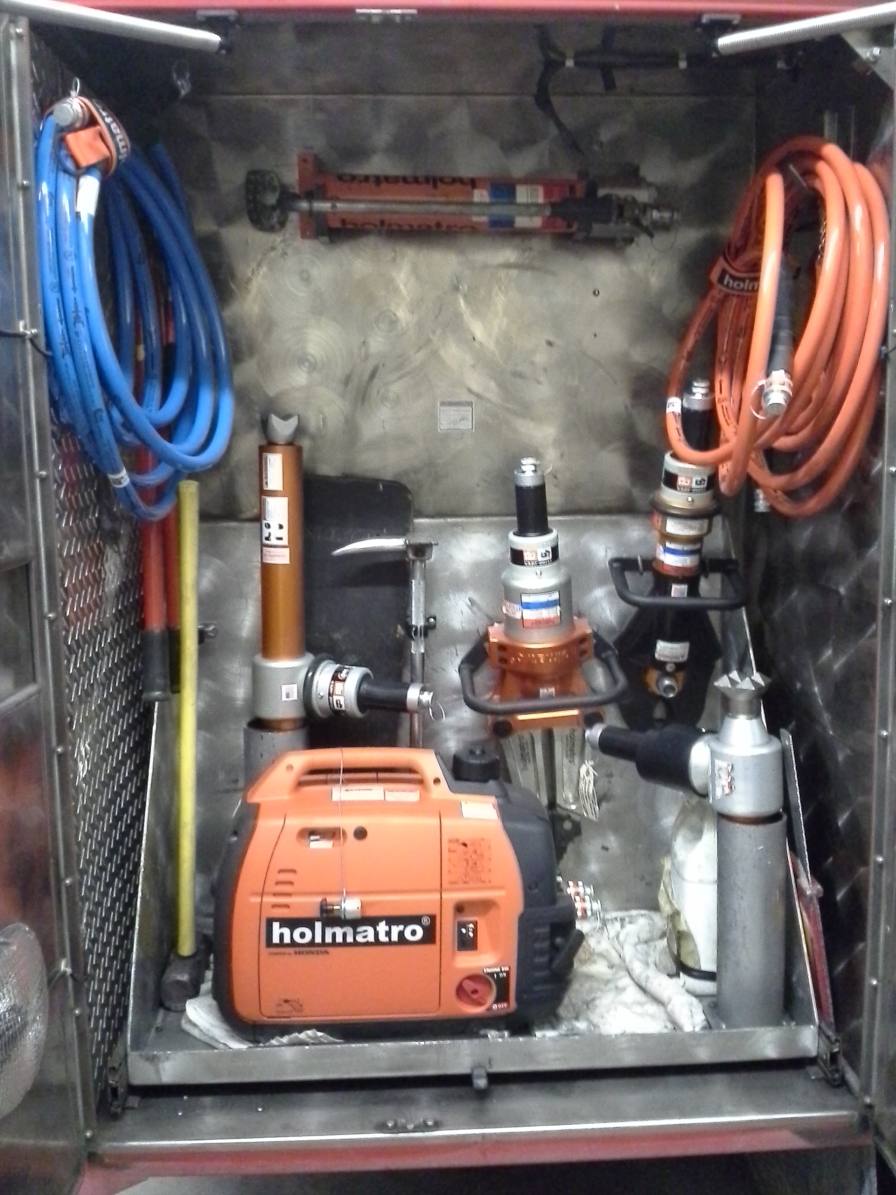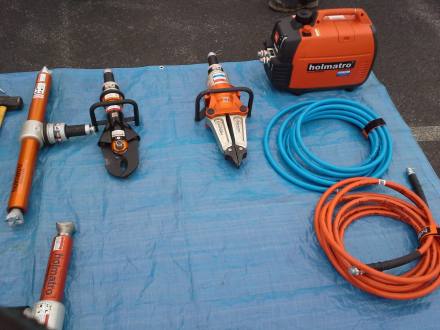 11/13 - Current Brush Truck Placed Out of Service
November 2013
The current Brush 24 has recently been placed permanently out of service. Due to the age and condition of the 1980's Chevy chassis, the BFC placed it out of service and is currently looking into purchasing a new truck. This unit served the Belleville Fire Company for many years, responding to numerous brush and mountain fires, as well as serving as a utility during the Firemen's Festival. Look for updates on a new brush truck in the coming months!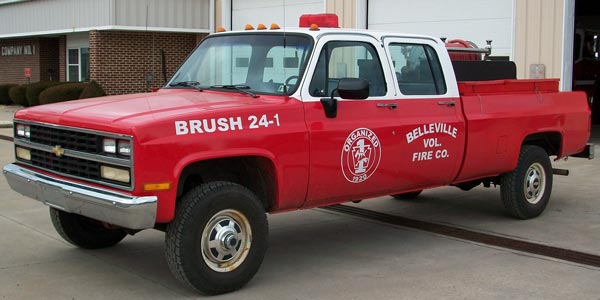 8/3/13 - Engine 101 Returns Home
8/3/13
For the first time since 1999, the 1965 Howe Engine finally returned home. Owner Mark Cleck brought it home for the 2013 Festival Parade. BFC members spent Saturday morning washing and waxing it and got it parade worthy. Many stories were shared about when she was in service in Belleville. A photo taken in the summer or fall of 1973 showed members Bob Glick and Sid Yoder with a trophy in front of the '65 Howe after it won best appearing tanker at the Milroy Parade. Before the 2013 Belleville Parade, the same photo was recreated. Engine 101, later re-designated as Engine 24-1, led the parade, with former BFC Fire Chief and Union Township Fire Police Captain William H. "Jock" Peoples as the Grand Marshal and Cleck driving. Tailboard riders included Sid Yoder, Bob Glick, Justin McCalips, and Matt Chester. After the parade, a group photo was taken of all current and former BFC members who rode the engine during its 30 years of service to Belleville. Engine 101 looked great riding through the streets of Belleville again and the members of the Belleville Fire Company look forward to seeing and riding it again!
Cleaning up before the parade

Current Engine 24-1 next to Engine 101

BFC members before the parade

Grand Marshal Jock Peoples

Bob Glick, Sid Yoder, and Engine 101 in 1973

The same photo 40 years later

Engine 101 leading the parade

There she goes

Current and former BFC members who rode Engine 101 during its 30 years of service
7/13/13 - Update on Engine 101
Update on Engine 101
7/13/13
Today Mark Cleck and Matt Chester spent the day washing, waxing, and polishing the '65 Howe in preparation for the Belleville Firemen's Festival parade in three weeks. Previously posted photos of the engine and the ones of it indoors today show how dirty it was and how the paint looked faded and dull. After photos, those of it outside, show that it shined up and looks great; almost like it did the day it left Belleville in 1998. She also runs great too. For those who remember riding this piece when it was still in service, she still backfires! Look for Engine 101 in the parade on August 3!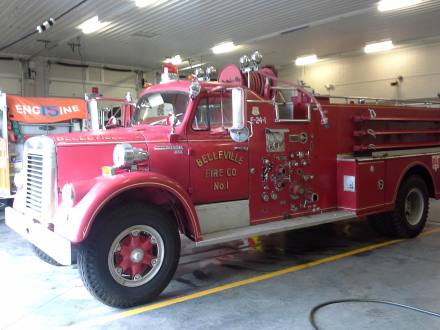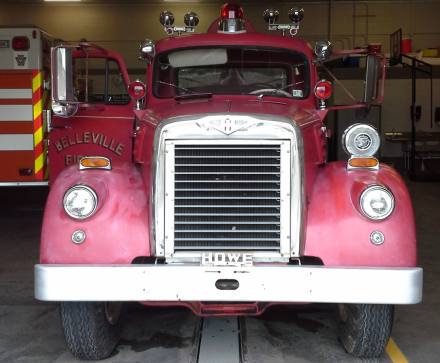 (before photos)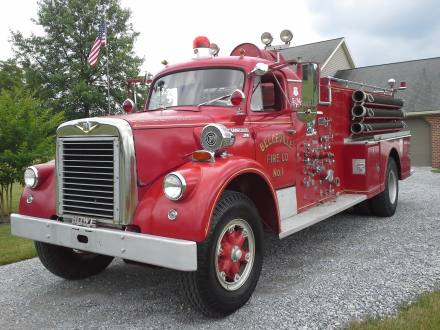 (after photos)
For more information and pictures, view the article below labeled 11/17/12 - '65 Howe - First Leg of the Journey Back Home.
3/1/13 - Update from Mark Cleck on the '65 Howe
We are dropping the fuel tank to have it refinished.  A new master cylinder for the brakes is on order.

With a good cleaning and a little polish, it should be running and be able to make an appearance in the Belleville Memorial Day Parade!
11/17/12 - '65 Howe - First Leg of the Journey Back Home
11/17/12
Today the '65 Howe made its first leg of the journey back to Belleville. Proud owner Mark Cleck, with the help of Antietam Fire Apparatus Inc, made the trip to College Park to load the engine onto a trailer. It was then transported to Hagerstown where it will be inspected for mechanical problems by Antietam Fire before it is returned home. Look for Engine 101 to return home soon!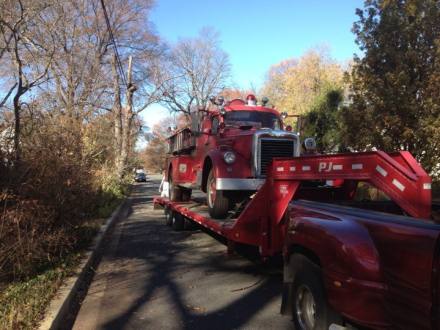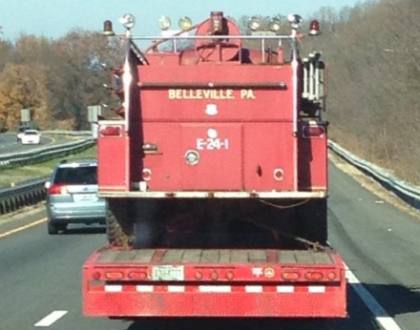 9/11/12 - Remembering September 11, 2001
9/11/12
On this day 11 years ago the world changed forever.  People going about their normal routine were shocked by the horrific events that occurred in New York City, Washington D.C., and Somerset County, PA.  On this day, we remember all the victims of the attacks and those who rushed to the scene to save as many as they could.  We remember the heroic actions of hundreds of emergency workers who responded to the World Trade Center, the Pentagon, and Flight 93 crash site.  We especially remember the 343 FDNY firefighters that paid the ultimate sacrifice that day.  Their actions saved the lives of thousands of civilians, and were the first steps in rebuilding the crippled nation.  Please continue to support the families of the victims, and thank those who serve us every day, both foreign and at home our military and emergency services personnel.  To our 343 fallen Brothers:   We will never forget your actions and courage.  Rest in Peace Brothers.
7/23/12 - Anthony D. Hostetler Memorial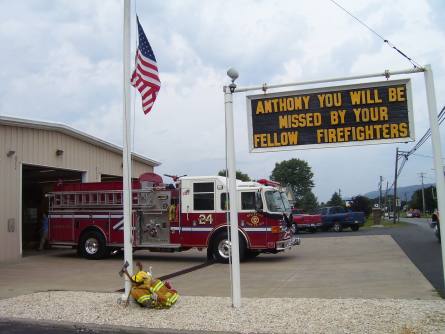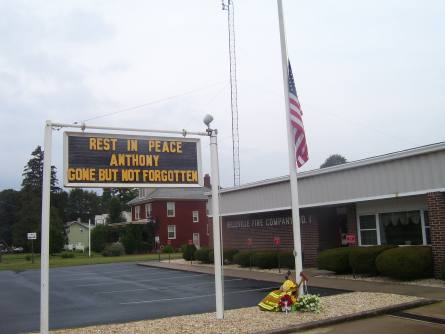 In Loving Memory
Anthony D. Hostetler
8/9/1993  -  7/23/2012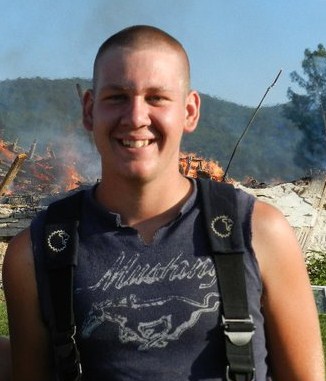 This has been a very difficult week for the Hostetler family, friends, and members of the Belleville Fire Company due to the passing of Anthony D. Hostetler.  This week we lost more than a young and aspiring firefighter; we lost an always smiling, fun-loving, kind-hearted young man who touched our hearts as a family member and friend.  We offer our deepest sympathies to the entire Hostetler family, Anthony's friends, especially Blake and Rudy, and all others that are proud to have called him a friend.   We thank our fellow fire companies, community members, family, and friends for their condolences and support through these difficult times.  We know Anthony enjoyed life by his jokes, his smile, and his willingness to help anyone in need.  Please continue to support the Hostetler family and Anthony's friends in the difficult days and weeks to come.  Rest in Peace Anthony, you are greatly missed by everyone who knew you.